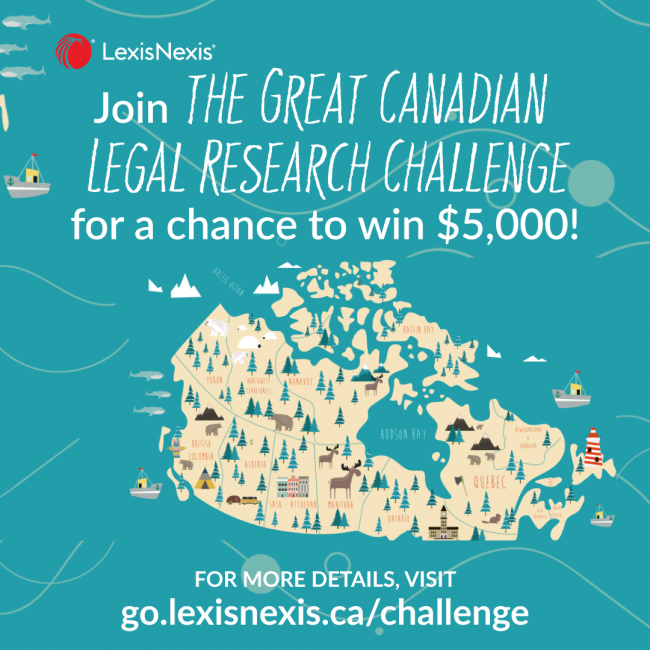 Notices
LexisNexis extends the invitation to members and friends of the Nunavut Law Society!
Prepare for an epic showdown as Law Society's members and their staff from across the nation come together for a friendly competition to claim the esteemed title of the best legal researcher in Canada! Introducing the Great Canadian Legal Research Challenge, a remarkable event celebrating 50 years of Legal Research & Innovation, from Quicklaw to Lexis+ Canada.
Challenge Highlights: 
A substantial prize pool awaits, with $9,000 up for grabs! 

Access to a 3-week trial of Lexis+ Canada: LexisNexis' cutting-edge research and analysis platform. 

Bragging Rights: Seize the ultimate bragging rights as Canada's finest Legal Researcher.  
The Challenge Breakdown: 
Thirteen exceptional winners, one from each province and territory, will advance to compete for the title of the best Canadian Legal Researcher. The rewards are impressive: 
First Place: $5,000 

Runner-Up: $2,500 

Third Place: $1,500 
How to Register: 
To join this exciting challenge, simply fill out the registration form on the dedicated Challenge page. 
Challenge Perks: 
As a participant, you'll receive complimentary access to Lexis+ Canada, allowing you to prepare and practice for the event. You can also utilize this invaluable research service for your own cases. 

We're here to support your journey with complimentary training sessions offered during the challenge period.  
The Challenge Rounds: 
Mark your calendars for the Provincial and Territorial round on October 17th, 2023, and the Canadian Grand Finale round on October 25th, 2023.

The surveys for each round contain 10 to 15 questions that take 30 minutes on average to complete. The survey questions cover a variety of sources such as caselaw, legislation and commentary in subjects of interest for Canadian lawyers.  
Victory Criteria: 
The winners of the first round will be determined based on the highest number of correct answers delivered in the shortest time—a true test of speed and accuracy. 

Don't miss your chance to be part of this historic celebration of legal research excellence! Register today and embark on your journey to claim the title of the best Canadian Legal Researcher. 
For questions, please contact events@lexisnexis.ca.

Let the Great Canadian Legal Research Challenge begin! 

 
Warm regards, 
LexisNexis Canada